Chiropractic Testimonials


---
---
---
---

---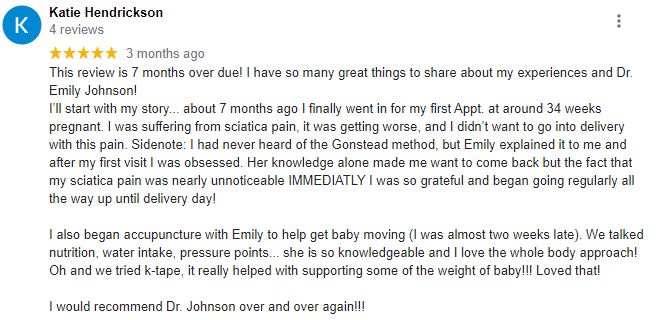 ---
---
---
---
---
---
---
---
---
---
---
---
---
---
---
---
"Our daughter has been seen for frequent migraines and hasn't had one since. Also corrected her posture. But a few weeks ago Dr. Noonan felt something wrong and said told us she needed immediate medical attention. We took her to the ER, and they sent her to another hospital for emergency surgery. It was ovarian torsion and Dr. Noonan caught it early. On behalf of our family, we all thank you so very much. Your the best, and delivered on everything you said plus some."
- Joseph G.
---
"Dr. Noonan has been a huge blessing to myself as well as my son. I researched chiropractors in my area quite a bit and decided to go with Dr. Noonan for a multitude of reasons. She uses the Gonstead Method. This method is much more mathematical and exact, which gives her a deeper picture of what is going on with the body, and which approach to take. 2, she is honest and knowledgeable which is the #1 to earn and keep trust. She gives you facts, evidence to back it up, and confident in her work. 3, super informative - I like to know what my body is doing and why, and Dr. Noonan always does a wonderful job at explaining it in "non-doctor" terms. 4, super kind, and charismatic. Highly recommend!"
- Jessica
---
"My husband just started going to Dr. Emily Noonan and is feeling good about the progress being made. She did a complete workup on him and he is starting to feel better after every visit.
- Lynn
---
"When I see Dr. Noonan I feel truly cared for. I am a big believer in understanding the root cause of my condition and Dr. Noonan has always been right there with me to uncover it. She listens intently, speaks from experience, and has wonderful energy. If you're looking for a chiropractor, Dr. Noonan is worth checking out!"
- Faith
---
"I came to Dr. Noonan after grad school, where I had sat most of the day studying and after three years this had really taken a toll on my back and posture. The pain was keeping me from doing my usual workouts and social life because I constantly felt like I had to lay down to relieve the pain. I'm so thankful to be a patient of Dr. Noonan! I'm still early in care, but already seeing the progress with my back! I'm able to move much easier, sleep better, and I feel like I have more stamina throughout the day. The Gonstead adjusting technique is very specific and Dr. Noonan explains the process and makes the adjustments comfortably. Highly recommend for others wishing for better health! Just do yourself a favor and get in for some specific adjustments! It'll change your life!"
- Alyssa
---
"When people think about chiropractors they think about someone fixing their back, but Dr. Noonan takes your overall health into account. Because she requested blood work, we found out I was missing key vitamins and nutrients. She listens and cares for your well being. I would highly recommend Dr. Noonan!"
- Erin
---
"Dr. Noonan was amazing in helping with my infant's constipation."
- Andrew
---
"BAM just like that my headaches are gone! ......has done wonders for my daily functioning."
- Alex
---
"When I see Dr. Noonan I feel truly cared for... If you're looking for a chiropractor, Dr. Noonan is worth checking out!"
- Faith
---
"I have been to 3 different chiropractors. Dr. Noonan is the only one that made me feel relieved and healthy again!"
- Ellen
---
"Noonan chiropractic is by far the best chiropractic care I have ever received. They don't look at you as a whole, but as an individual."
- Ashley
---
"Dr.Noonan helped me so much throughout my pregnancy. I had regular adjustments and had a much faster labor."
- Danielle
Monday
9:00am - 11:30am
2:00pm - 6:00pm

---
Tuesday
7:30am - 11:30am
---
Wednesday
9:00am - 11:30am
2:00pm - 6:00pm
---
Thursday
9:00am - 11:30am
2:00pm - 6:00pm
---
Friday
7:30am - 11:30am
---
Saturday
Closed